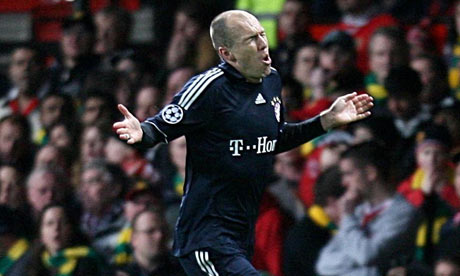 Arjen Robbens's goal against Manchester United on Wednesday silenced not only Old Trafford, but the scores of British fans and media who have long believed that success is their divine right.
With the English stranglehold of the Champions League in recent years has come an unhealthy sense of entitlement, from players, supporters and the media. This season, however, has been a wake-up call, and the reality has been particularly hard-hitting this week.
With Arsenal and Manchester United crashing out in the quarter-finals, and Chelsea and Liverpool ejected at earlier stages, this season's Champions League final will be the first to be contested without an English side since 2004.
And the dearth of British representation in the semi-finals has sparked a spate of unnecessary investigations into a non-existent crisis for English club football. This worry seems all the more ridiculous when one considers that both Liverpool and Fulham have reached the final four of the Europa League.
Rather than scrabble for reasons for this supposed emergency in British football, recent events should instead encourage fans and commentators to rein in their expectations, which have long since spiralled into realms of the stratospheric.
These bloated expectation levels are the manifestation of an innately British notion of entitlement, and it is this presumption of success which spawned the incredulity Manchester United fans felt after their defeat this week to Bayern Munich.
How embarrassing, they must have thought, to lose to these overachieving German upstarts. In truth, the loss should not have come as an earth-shattering surprise. Bayern are a footballing giant, with four European Cups to their name, yet the bafflement which met last week's result suggested that they'd won with Angela Merkel in goal.
Sir Alex Ferguson could have acknowledged Bayern's well-deserved aggregate win, but he instead accused them of foul play. "Typical Germans," Ferguson complained, perhaps forgetting the Roy Keane-led posses which used to surround Premier League referees on a weekly basis, to United's advantage.
More than an inability to admit to being outplayed, what this reveals is the unrealistic expectations weighing down British sport.
Earlier this year, Team GB was forced to defend its medal tally at the 2010 Winter Olympics, when Hayley Williams' gold in the skeleton proved to be the sole success. Although this was an improvement on the one silver Team GB claimed at Turin in 2006, the knives were out for Britain's winter Olympians.
Again, the reaction was mystifyingly hysterical. Britain, after all, does not traditionally specialise or excel in winter sports, and this is reflected financially. British snowboarding cross competitor Zoe Gillings voiced her frustrations about Team GB's shortcomings at the games, but was also sceptical about the criticism the athletes face: "Without the funding, we're not going to get anywhere."
The demands for success are similarly implausible in the summer's equivalent, even though it is widely recognised that Olympic sports trail far behind football, rugby and cricket in terms of participation, audiences and funding.
Whatever the sport, the British consider themselves to have a divine right to success. Every year at Wimbledon, Andy Murray is expected to win, regardless of other players' form or the Scot's own slight aversion to grass court tennis.
Similarly, whenever the football World Cup is mentioned, what immediately follows is self-righteous trumpeting of the spirit of 1966 and a series of ill-informed predictions of an England triumph. The merits of opposing teams are overlooked, and a predictable English quarter-final exit is mourned like the death of a monarch, or in The Sun's case, seen as a global conspiracy against "our 'onest lads".
As this year's World Cup in South Africa approaches, we have already been inundated with panic-stricken injury updates and boasts of England's apparently inevitable success, but perhaps recent disappointments will have at least created a ripple of doubt among the sea of self-assurance.